arg, i wanted to go to joann's to pick up some stuff, but i guess im going to have to do it tomorrow. I didn't have time, i had to pick up my brother from school. ill go tomorrow in the weeeeee morning if i can get up!
connie at 5:00 PM
here it is! my second beanie ive ever made, i had no pattern to follow, made it up myself from information that i gathered. its a little tight, i could've casted on about 10 - 15 more stitches to be more comfortable, and have made fewer rows. not bad i guess. what do ya think? the next one for sure will be much better, now that i know what to improve on.


connie
at
5:42 PM
Here are two out of four of my family's kitties, all my kitties are siblings, these two are my baby boys, no doubt. here they are.....

this is Unix ready to play some Counter-Strike... or is he listening to music?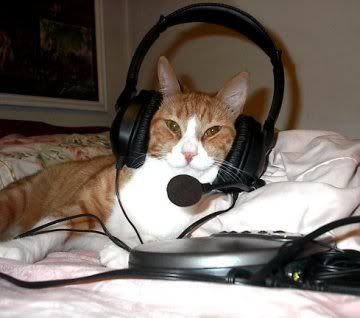 and this is Benji modeling in both shots, he's very feminine as you can see.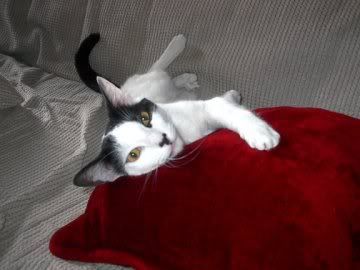 Be Cool Mah Babies!!!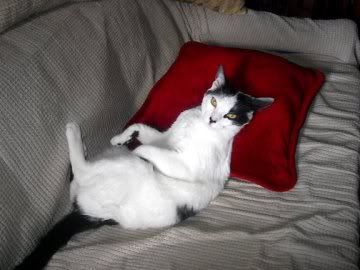 connie
at
1:03 AM
wow, time just fly doesn't it? Even if you aren't having fun. Haven't been doing much, just looking at my major and such, im still very interested in dentistry, so I need to finish up the classes at my current school and then transfer. Maybe another two semesters. God, im slow, I just seems like im taking my time, haha.

well on the side I've been knitting a little. Im making a "prototype" beanie. Here is the current status, look below:




Remember when I mentioned id make my brother a scarf, here it is, it's taking awhile to knit:



it looks quite small, but once Im done, its suppose to be about 64 inches in length, i hope the patterns right! :)

connie at 4:26 PM
here are some of the embroidery designs i have done in the past couple days since Ive been sick, and then there are a few that are older, i just wanted to show them off. im very proud of myself,
EVEN if they aren't THAT hard to create to some people... :)


connie at 3:03 PM
my body hurts SO much, i feel like i have that bodyache when you have the flu, and im not even sick, but i didn't get much sleep, i kept waking up... maybe im pms-ing...hmmm
in other news, i will be making my brother a scarf, i can't believe he wants one, i dont know many guys that like that, but HE does. im sorta excited. i sent him a image that had 4 different designs, i know he wants stripes that are going horizontally. so then i made up the different looks, they are sorta pathetic designs, but check them out:




as you can see, he wants blue and gray. now all i have to do is just wait for his email about which design he wants. im really excited about starting this, im actually looking forward to making this scarf and then giving it to him, i hope i don't f*** it up. :)


connie at 1:12 PM
did a little fixer upper on this blog page, notice anything different? i changed the title design, thought it was a little too kooky for me, this is much better. didn't do any craft project today, tomorrow ill have the whole morning to myself, my bf is going with his dad somewhere. so im taking advantage of the time since i USUALLY spend 99.9% of my spare time with my bf, its really sad that im happy about spending the time alone, im pathetic... anyways i will probably continue working on making a journal, ive already took an old book and cut out the bookcover front and back and started gluing pink fabric to the front. I need to let it dry, in the morning i finish decorating the cover. i hope it turns out good.
i was at my bf house and we put together his new treadmill, it looks good, we didn't get to plug it in to try it out because we needed an extension cord which he will get in the morning tomorrow. then we will officially start exercising once he gets it. can't wait!
nothing really to talk about now... well... i ate very little today, very good... i probably ate not more than 800 calories, i wasn't VERY hungry today, but right now i feel like eating, im not going to because i know its bad to eat after 8pm. well i better go, that way i have a decent amount of sleep to wake up early. :)
connie at 1:33 AM
so yeah, i had to go to jury duty today at 11am, i got to the courthouse and waited outside the courtROOM with my group. I was really nervous about what kind of questions they were going to ask when we sit down in the jury box. 20-25 mintues went by and we still weren't inside the courtroom, then a lady came out and announced they weren't going to have a courtroom session so we were dismissed to go home, i was SO relieved and at the same time happy we didn't have to do anything! i was stressing out a little bit the night before because i knew they wanted to ask us questions aloud and im not a very good public speaker even if IS in a courtroom with totally strangers. i totally get nervous, usually when its my turn to talk in front of people, i think to myself before i begin speaking, "im going to f*** up". i pretty much try my best to avoid speaking aloud, i freak out too much even if its the smallest thing that has to do with speaking up. but i wish with ALL Of my heart that i was good at that. i envy all people who can talk in front of people without getting nervous but at the same time think how lucky they are to have such talent. i wish...
on another note, i've been really happy with myself for not eathing junk food for the past two days, it's a start, ya know? Yesterday at the jury thing i ate a half container of mixed fruit and half can of V8, i was so hungry while waiting in the assembly room but by the time for lunch break, i lost a lot of my appetite, in the fruit container there was slices of mango, watermelon, honeydew(i think thats what its called) and some red looking fruit which ive NEVER had before so i tried it and it was HELLA gross!!! and the reason why i only ate HALF of the container was because HALF of it was that sick red fruit crap. and then later that day i had a small pouch of raisenettes and for dinner chicken, shrimp and rice. not too bad for a day.
today i had a turkey sandwich i made-to-go for the jury summoned thing. and tonight i had a chicken with peas, mushrooms and rice...yum considering i was so hungry. i sorta miss homemade cooking, it was pretty tasty.
i think im going to get or perhaps MAKE a journal and with that im going to jot down ALL the things i eat everyday, i tend to forget things after about 2 days (horrible memory, i must say.) Ill make one tomorrow. well not much else to tell thats really interested, OH! yeah one last thing, my bf purchase a brandnew treadmill from costco for 978 and some odd cents. tomorrow im going over to his house to help him set up the machine in an additional room. we're going to break some sweat from it, just like we did this evening when we tried to get it off his truck, it weighed like a TON, we had to open the huge a** box and remove some of the pieces to bring them in the house, it was crazy as hell. well i think i had said enough, ciao!
connie at 12:12 AM
Yesterday(01-04-05) i found out i had jury duty, and i REALLY thought I was going to get off the hook! nope....i had to go, they put about 100 people in an assembly room and called out names in groups. I was in the last group they called to go to a courtroom not to mention the last person on that group list. My group didnt get assigned until about 3pm, and i was summoned to go to the assembly room at 7:45am! NOW that was a LOOOONNNGGG and boring wait. I should've brought a book to read, but I didn't. I remember that night before about bringing some stuff to knit, but when i read there "what to bring and what NOT to bring" on there list of "what not bring" i couldn't bring knitting needles. it sucked a buttload. ....actually it was TOO boring because they let us watch some DVD on there big screen tv. as long as i waited, i watched THREE: Pirates of the Caribbean, Liar Liar (of course), and Con-Air. I had a field day with those... time went by faster with them, thank god. well i better get to bed becaue I and the other people in my group have to be back at the courthouse at 11am sharp, but I am bringing a book for sure this time, cuz i know there is going to be a LOT of waiting around.
connie at 12:03 AM
It sucks I didn't post the last couple of days, i've been real lazy, ive been lazy about everything and I think i know why...junk food, i really hate myself for it. why cant i just say no, and i think im never going back to KFC to eat their chicken, I felt sick once I found out by watching a video online what they do to these chickens when they are alive, people slam the chicken againist walls and they crush them with there feet, I felt totally sick. Other videos I check out where Chinese cook cats as food. I almost had a heartattack from watching it. Yesterday i was browsing the web and came across a personal blog, I saw a button link that read: Iams Cruelty (a PETA supported site). I click on it and it was so sad what Iams Laboratories do to the dogs there, neglected isolated animals, there muscles on there thighs have been removed in chunks for studying purposes with no veterinary care, just so they can test there food products. Check out this site, don't forget to donate: http://www.iamscruelty.com/

connie at 11:33 AM
Well last night(now that its consider morning) my bf got me this he ordered it from online...




yes!!! mah babies! i got it! FINALLY! i was so thrilled, i can't wait to start crackin on makin my bf a knitted beanie, now if only he'd wear it? i gotta pick some rad colors, maybe dark red and black? black and blue? gray, black and blue? i know those are his favorite colors. i hope it won't be that hard to make a beanie, but with the help from this knitter's book, how can anything go wrong? lets just hope....arg....:)

connie at 1:02 AM
-Lose 20 pounds (I'm 5'3 and presently weight 135.5) already dropped 2 pounds (happy).
-Stop eating fast food (McD's, Jack in the Box, Taco Bell and the mother of fast food Chinese food).
-Start eating more vegetables and fruit.
-Stop biting my nails.
-Excerise at least 30 minutes everyother day.
-Get a job at a Dental office (i hope...).
-Pay my credit card bill monthly.
-Drink ONLY water.
-Do more crafts in my spare time: Embroidery, knitting, jewelry making etc etc..
Will work on this list tomorrow morning maybe....

connie at 1:03 PM
starting tomorrow I am going to eat better, me and my bf just eat out WAY TOO MUCH. I discussed it with him and we both agree. So I guess this blog will be a very cool recorder in addition to everything else that is good and bad in my life. anyways, today to kick off our new eating habit we went to get subway(which i REALLY wanted), deeeeeeeeeeeelicious, but i know my bf with not be too keen in adding subway to our "new" menu, he doesn't like it very much.... oh well! too bad for HIM! lol

connie at 1:32 AM
well, i just started knitting about a month ago. the first thing I knitted was a scarf, but I never finished it, i thought the colors were so ugly and i did a TON of mistakes in it ( that one was a practice one), so i decided, now that i learned to do a garter stitch, how about making a scarf for my friend michelle? I went to joanns and bought two skiens of (the LAST TWO in STOCK!) i think it was baby worsted yarn, i would know, but i lost the tag. the colors are so pretty, they're mixed with light pink, light purple and white. she LOVED the scarf i was SO happy. :) anyways with the leftover yarn, im making a thin scarf for myself, can't hurt... ya know? tee hee... and then im making a red wine color scarf for my older brother (which is on hold for now). here they are:




plus, i made some cute crystal earrings for my sister...




as you can see in the first scarf photo, i made those knitting needles, they're not quite done yet. i still need to smooth them out more, its pulling the yarn a bit, im just temporarly using them to hold the red scarf. ill post pictures when I am finished with the needles...:)




connie at 2:26 PM
Okay, I got this all set now, layout almost fixed the way I wanted it. I need to tweek it a bit and thats it. Well Im totally excited about tonight, my BF is coming over for a christmas dinner and he got a present for me! I told him not to because I know he doesnt have a lot of money right now. I wonder what he got me?!? oooohhh, i can't wait....
MERRY CHRISTMAS EVERYBODY!!!

connie at 5:43 PM
whoo HOO! i can't wait, my mom is taking me and my sis out to get our hair done. i wonder what my boyfriend will think when he sees me. im definetly gonna get my hair straighten, ive never done that before, so its going to be rad. Im looking forward to it! ha HA!
a few mintues ago i was working on a new scarf with leftover yarn that I have, i only have a little bit so im making a real thin one, i love the colors of the yarn its mixed with light purple and pink, i got it from joanns so i am sure a lot of people have seen this yarn, its pretty popular im sure. im gonna go and work on it a bit then go to bed, not much to talk about...i WAS going to make a custom layout for this blog, but its going to be harder than i thought, i really haven't done much of html in the last 3 or 4 years, so im a bit rusty at it. i guess ill start working on that after christmas and before school starts again. i hope ill find the time to do it in a couple days...

connie at 1:57 AM
Yep...my first one. I thought it was kinda cool to call my blog "craftopia" because l couldn't really call my blog "knittin'..." or "scrapin'...." or "jewelry makin'..." cuz i just dont do one craft, I like experimenting different crafts and trying them out. so "craftopia" seemed like the perfect name...LOL! god, i am so happy no one had that name!!!! i feel like a lucky girl today!!!! :)
I love doing all sorts of crafts like : jewelry making, embroidery, knitting (i just started out, real new at that), quilting, sewing, polyclay making, or pretty much anything DIY!!!!!!! I love it! Im totally obsessed.
Well, i guess im gonna go for now, im so tired and its 1am in the morning!!!! i need to get to bed it i want to wake up early to watch Knitty Gritty, i better set my alarm....hmmmm.. :o\

connie at 1:14 AM